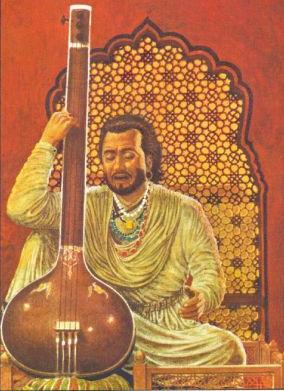 ~*~*~*~ Raagrang ~*~*~*~
***
ठाटज्ञान
(A compilation of Gurbani Raags by Gurbux Singh Ji England)
(ਪ੍ਰੋਫੈਸਰ ਗੁਰਬਖਸ਼ ਸਿੰਘ ਜੀ ਇੰਗਲੈਂਡ)
Glossary of Indian classical Music
Western and Indian Notes and their Frequencies
22 Shruties in Indian Classical Music
40 Principles of Indian Classical Music
***
Some Raags in the 10 Indian Thaats:*

01. Bilawal Thaat : Shudh Bilawal, Deskar, Bihag, Durga, Hansadhwani, Pahadi
02. Khamaj Thaat : Khamaj, Des, Jaijaivanti, Rageshwari, Kalavati, Sorath, Tilang, Jhinjhoti
03. Kalyan Thaat : Shudh Kalyan, Hameer, Kamod, Kedara, Maru Bihag, Yaman, Bhopali, Chayanat
04. Bhairav Thaat : Bhairav, Ahir Bhairav, Bairagi, Kalingda, Lalit, Ramkali, Ramkali Ki Bahar, Jogia
05. Kaafi Thaat : Bhimpalasi, Bahar, Shudh Sarang, Peeloo, Abhogi, Patdeep, Kaafi, Bageshwari,
06. Marwa Thaat : Marwa, Sohini, Pooriya Kalyan, Pooriya, Bhatiyar
07. Asavari Thaat : Asavari, Darbari, Jaunpuri, Sindhi Bhairavi, Adaana, Gandhari, Desi
08. Poorvi Thaat : Poorvi, Basant, Pooriya Dhanashree, Shree, Gauri, Paraj
09. Todi Thaat : Shudh Todi, Mian Ki Todi, Gujri Todi, Multani
10. Bhairavi Thaat : Bhairavi, Malkauns, Bilaskhani Todi
***
* With due respect and obligation to respected Late Khawaja Khurshid Anwar Sahib !